Implementation of Lean Management to the Decommissioning of Nuclear Facilities
In order to ensure safety in the planning and execution process of decommissioning nuclear facilities, it is necessary for specialized firms to cooperate with public authorities and experts.
The extensive regulations for Nuclear Decommission provide essential instructions for their collaboration. The complexity of nuclear decommissioning combined with numerous involved parties poses a significant challenge to project management.
This project's entire process is to be optimized by the implementation of the principles and methods of "Lean Management" in collaboration with WAK (Wiederaufbereitungsanlage Karlsruhe Rückbau- und Entsorgungs GmbH).
The aim is to eliminate time and cost consuming revisions of the decommissioning approval procedure and to improve the coordination of the involved parties. This will be achieved with the help of transparent processes, improved information flow, early involvement of public authorities and experts, as well as cooperative project handling.
The effects of applied principles and methods can be predicted by linking hypothetical model development to practical implementation. This involves the preparation and creation of the application documents for the approval according to § 7 AtG as well as the supervision of the approval procedure.
Fundamental thoughts
Get all the Last Planners together in regularly meetings
Who is Last Planner? – person or team that produces assignments of work to be carried out
Knowledge transfer from execution to planning and design phase
Planning process of the Last Planner System
Planning begins with master scheduling, in regularly meetings this plan is continuously detailed. So plan in greater detail as getting closer doing the work is an essential concept within the Last Planner System.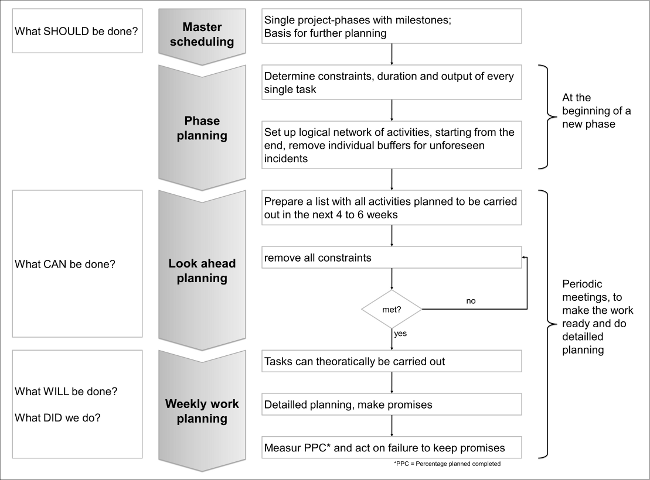 The Last Planner System, with aim to create reliable promises, reduce variances and increase productivity.
Benefits of the Last Planner System
increasing detail with the progress of planning leads to appropriate increases in the planning accuracy
Reliability of assignements will rise within ongoing planing process
Deviations in the planning process will decrease through customized, shorter preview periods and reliable work commitments
problems are detected earlier and will be removed together
well-established project structure to act fast and proper to unforeseen incidents
continuous learning process throughout the project by the detection of errors and their causes
Research process
The research process is divided into the practical application of methods and principles of lean management and into the theoretical development of a model. First the special boundary conditions are evaluated. These are especially the complex licensing process for decommissioning with its different parties involved.
Determining how lean principles and methods can be applied to decommissioning due to specific boundary conditions is the second step. This will lead to a theoretical model how decommissioning projects are managed with lean principles. Transparency, flow and cooperation are vital elements to optimize decommissioning.
By linking the theoretical model and the parallel, practical implementation statements over the effect of the model will be developed.

Combination of theory and practice with aim:
Minimization of iteration steps in the licensing process
Improve coordination between owner, regulatory body and review expert
Create reliable promises
Enhance transparency of material and information flows
Continuous improvement