Training as DGNB Registered Professional
For more information please use the german page
The demand for experts in the field of "sustainable building" is growing steadily. Take advantage of the opportunities for further training in this field and shape your career in a sustainable manner.
The training as DGNB Registered Professional at the DGNB (German Sustainable Building Council) is aimed at students who want to position themselves in the market area of sustainable building even before they start their careers and want to equip themselves with the necessary tools during their studies.
The DGNB Registered Professional has basic knowledge in the various topics of sustainable construction and provides advice on these topics.
The DGNB Registered Professional is the preliminary stage of the DGNB Consultant and DGNB Auditor training. If you complete this training during your studies at university, you will qualify early for the start of your professional life in the sustainable construction market.

Your advantages
Admission as DGNB Registered Professional and thus proof of knowledge of the fundamentals of sustainable building even before the start of your career*.
In addition, you will receive a free introduction to the DGNB certification system and its practical application and thus a transition from theoretical knowledge to construction and planning practice.
This saves up to ten days by eliminating the need to attend DGNB basic modules at external institutions
Monetary savings of up to 2,000 € and reduced examination fee and omission of the registration fee
*After successfully passing the P1 examination for DGNB Registered Professional and completion of the Master's thesis.
The Chair of Facility Management, headed by Prof. Dr.-Ing. Dipl.-Wi.-Ing. Kunibert Lennerts, is a cooperation partner of the DGNB GmbH. Starting in the summer semester 2014, students of the Master's program in Civil Engineering with focus IV "Construction Operation" will have the opportunity to take the DGNB examination P1 to become a DGNB Registered Professional at KIT.
Procedure for the DGNB Registered Professional P1 examination:
The DGNB examination is conducted online under supervision on the premises of KIT.
Registration is done via the Chair of Facility Management of the TMB.
Information on the fees to be paid can be found on the DGNB website.
Contact person is Alexander Bombeck.
The admission requirement for the examination P1 is
The master module "Sustainability in Real Estate Management" will be taken.
Ideally, the students are in their last Master's semester, so that the content required in examination P1 has been covered in the previous course of study.
The P1 exam exam examines the following course contents that are taught in the master's program in civil engineering: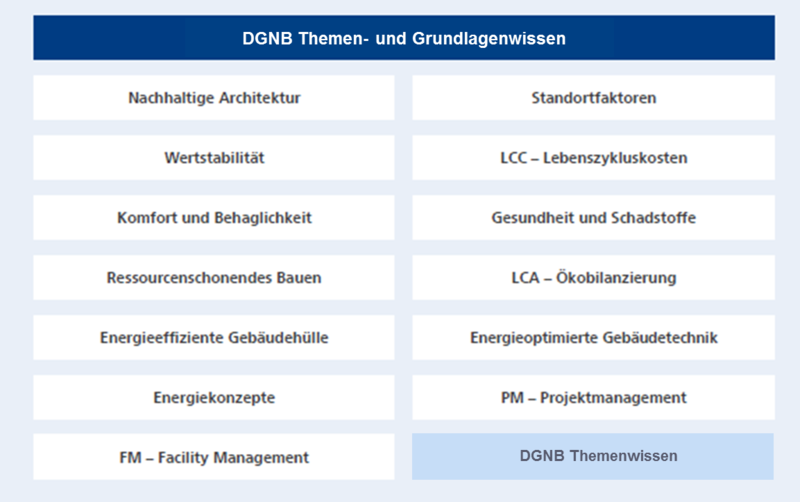 Exam dates
The examinations P1 for DGNB Registered Professional conducted by the Chair of Facility Management take place annually during the lecture-free period in the summer semester. The exact dates will be announced in the lecture "Sustainability in Real Estate Management".
If you are interested, please contact Alexander Bombeck.